Alpha Cubed Investments, a Registered Investment Advisory firm specializing in managing investment portfolios for high-net-worth individuals, is pleased to announce that Jared Bergstrom, CFA, CFP® has joined Alpha Cubed Investments as a Wealth Manager, Vice President.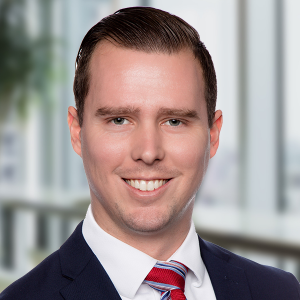 Jared Bergstrom CFA, CFP®
Wealth Manager
Vice President
Prior to joining Alpha Cubed Investments, Jared was most recently a Registered Client Associate at Wells Fargo Advisors, where he worked closely with individual clients and families to help them navigate the investment world through planning and asset allocation. Jared previously served in the United States Marine Corps and is a veteran of 6 years earning a Certificate of Commendation, 2 meritorious promotions, and the Meritorious Mast.
Jared graduated with a degree in business administration (finance) from California State University, Fullerton and is a both a CFP® professional and a CFA® charterholder.
When not working, Jared enjoys spending time with his family, mountain biking, and snowboarding.
"We are excited that an experienced and highly qualified advisor like Jared Bergstrom is joining the ACI team. He will apply his experience, including all his CFP® and CFA training, to help our clients reach their long-term goals. The attention to detail and process that Jared's military experience gave him is also a huge plus. We look forward to his contributions to our process." – Todd Walsh, CEO, Alpha Cubed Investments
About Alpha Cubed Investments: Alpha Cubed Investments is a Registered Investment Adviser serving clients throughout the U.S. We manage assets for high-net-worth individuals and institutions. Our objective at Alpha Cubed Investments is to protect investor capital using our 3-step investment process with the goal of managing risk and generating long-term investment returns, including both income and capital gains. We offer personalized services to meet each client's financial goals. Alpha Cubed Investments offers custom portfolio management across the risk and return spectrum.